BPA merchandise
Porphyria Awareness Merchandise
We're delighted to be offering you the opportunity to purchase various clothing items to promote porphyria awareness and raise funds for the BPA. So far, we have facemasks, hoodies and snoods available. We'll be selling these items throughout the year.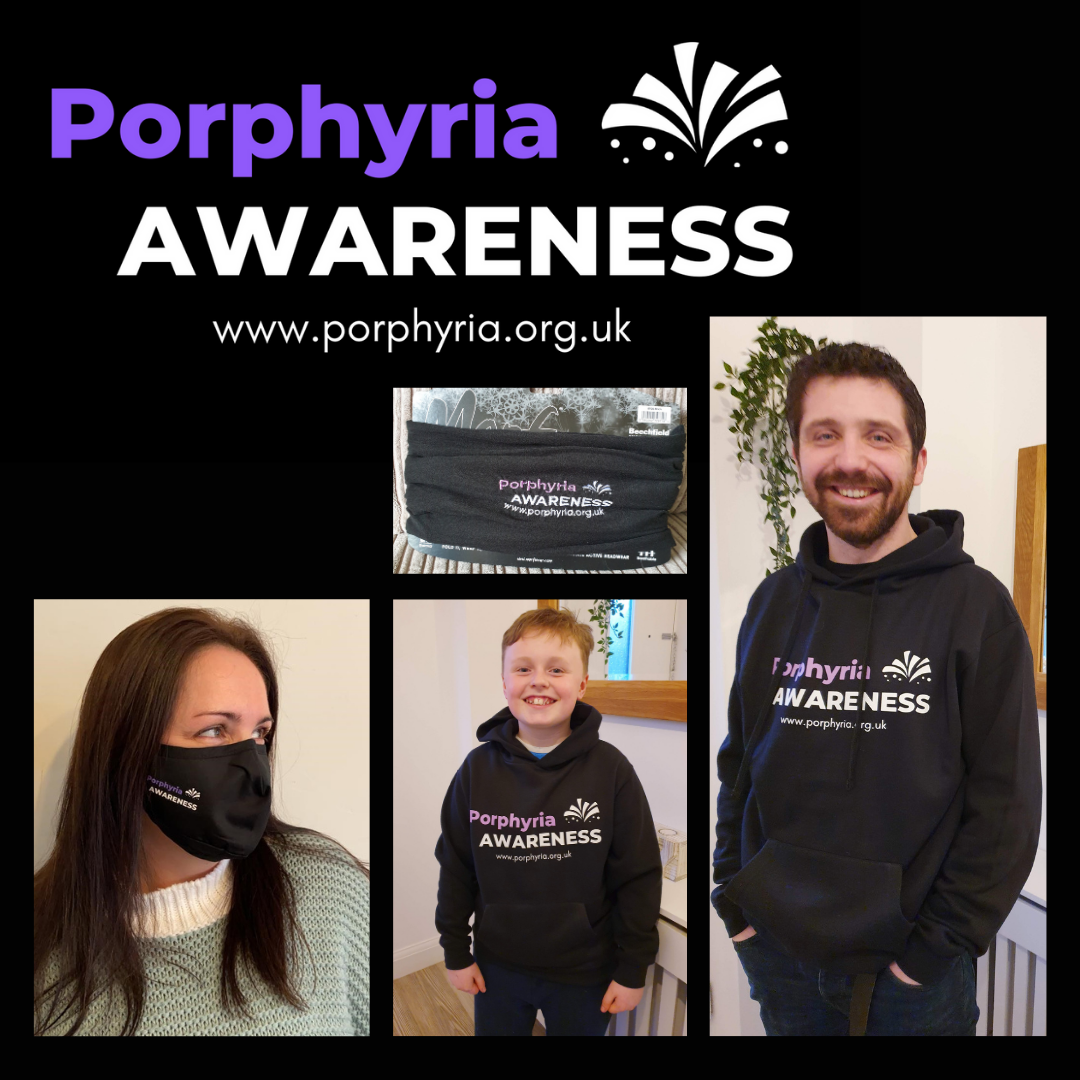 Facemasks
£6.50 (One size)
Orders should be received in around 7 days
Hoodies
Adult £24.99 (sizes XS, S, M, L, XL and XXL)
Child £19.99 (ages 3-4, 5-6, 7-8, 9-10 and 11-12)
Orders should be received in around 14-21 days
Suprafleece snoods
£9.99 (One size)
Orders should be received in around 14-21 days
If you would like to purchase large quantities or online payment/ordering isn't possible, please contact merch@porphyria.org.uk or 0300 30 200 30.
We also have a number of BPA merchandise items for sale individually, or available for you to sell at fundraising events.
We are happy to provide you with a BPA merchandise pack and display box if you would like to sell BPA merchandise for us, for example at a school fete. We ask for a deposit of £20 to obtain one of these kits as the merchandise within it will be valued at around £150. You can then sell the items at your event on a sale or return basis, and send us the remaining merchandise and the proceeds (less your deposit) at the end.
Small items such as balloons, pens, badges and wristbands are perfect for helping to raise awareness of porphyria at fundraising events. They also create a great talking point when you're using them later.
Contact us to find out more.
Keyring torches: £2.00 each
4GB data sticks: £6.00 each
Power banks: £6.00 each
Propelling pencils: £2.00 each
Pens: £2.00 each
Wristbands – red general BPA bands (embossed): £2.00 each
Wristbands – purple EPP bands (embossed): £2.00 each
Pin badges: £2.00 each
Folding tote bags: £3.50 each
Sports quality runninng vests and cycle jerseys available on request.
Fundraising merchandise box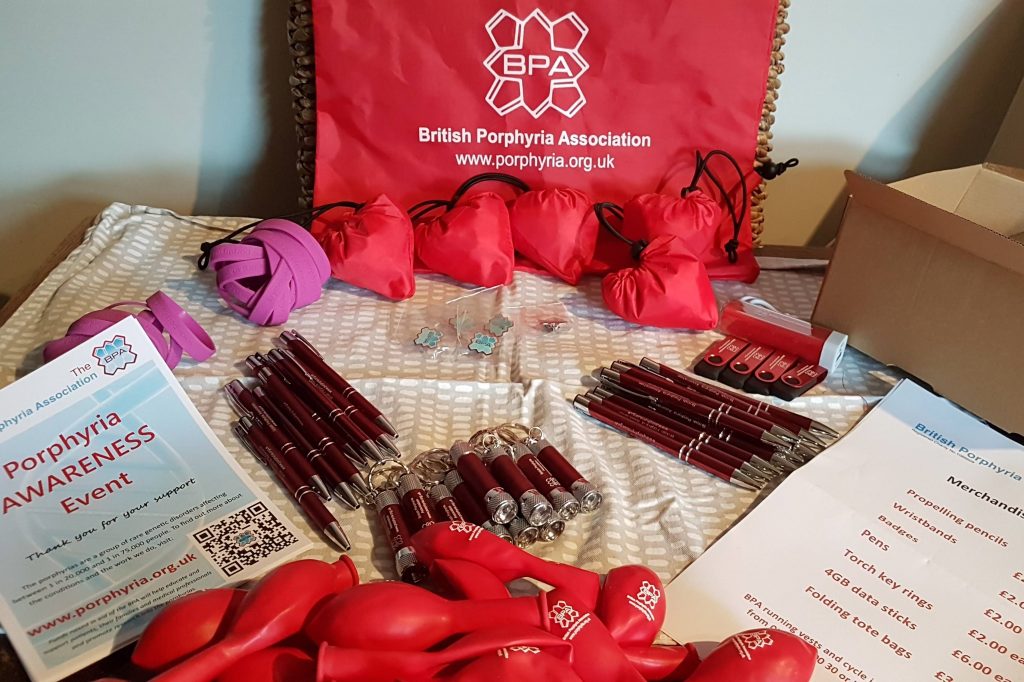 If you wish to purchase any items, please email merch@porphyria.org.uk for more details or send a cheque payable to the British Porphyria Association, along with details of your order to:
BPA Treasurer
Rothlea House, 7-8 Quarry Lane
Butterknowle
Bishop Auckland
DL13 5LL
If you are taking part in a fundraising event or require larger numbers, please contact us at: helpline@porphyria.org or on 0300 30 200 30.