Humble beginnings
In early July 1998, Karen Harris read an article in the Daily Mail by Christopher Hudson, which portrayed porphyria in a shocking and negative manner. This prompted her to write to the newspaper. Karen's response and accompanying photo was printed on 15th July. In the letter, Karen invited other people with porphyria to get in touch, in the hope of forming a fundraising association, thereby sparking the foundations of the BPA.
At the time, Karen's specialist in London (Professor Tim Peters) said that he could help by inviting some other patients to an informal meeting. He also invited Professor George Elder, who was working with porphyria patients in Cardiff, and CLIMB, a charity supporting children with metabolic diseases, who he thought would be able to provide advice.
Following the meeting, a small group decided to try to get the British Porphyria Association off the ground.
It was tough going and involved many meetings, as everyone lived across the UK and skype and conference calls were not around then. Ultimately, the work paid off and the BPA became a registered charity.
Thank you
The BPA wouldn't be where it is today without the hard work and dedication of a number of individuals over the years. There are more names than we can possibly mention, however a few people must be noted here for their input.
Karen was the first chairman of the association and over the years has done many different tasks, including running the telephone helpline, editing the newsletter and forming a patient database. Karen has also orchestrated and taken part in many fundraising events and has remained a trustee of the association throughout the years.
Karen Harris, Pam Spencer, Anne Newton, John Smith and Barry Woods were the first trustees of the charity. Barry Woods worked really hard sorting out all of the paperwork for our charitable registration alongside Lesley Greene of Metabolic Support UK (a charity previously known as the Research Trust for Metabolic Diseases in Children).  Pam Spencer kindly allowed us to us to use a meeting room at her family company, Clark Drain in Yaxley, for many of the early meetings.
Deborah Holdsworth was the first BPA secretary, to be followed by Sarah Pepperdine, Kirstine Chamberlayne and now Richard Bennett. In the early days, Ann Benfield, Linda Everest and John and Carol Smith were also highly involved. John and Carol Smith were the first treasurers of the BPA, after which Anne Newton took over. Alan Molyneux was treasurer for around two years, but then Anne Newton took back the reins and has remained treasurer ever since.
Around 15 years ago, John Chamberlayne and his wife, Kirstine attended some of the early BPA meetings after their daughter suffered from a severe attack of variegate porphyria. Fairly soon, John become involved by helping out with creating a website. Later, when some of the established members wanted to pull back from duties, John took the role of chairman.
Continued growth and development
The BPA has grown from just a handful of members in 1999 to around 400 today. The BPA's work streams have also evolved over the last 20 years in line with new developments and areas that our members have needed support in.
Our 20th anniversary festival event celebrated the work that has took place over the years and set a foundation for the years to come. Find out more about the day.
The BPA's three main aims for support, education and research have always remained integral to the charity's mission and will continue to do so as we continue evolving as patient needs develop and change.
We hope to continue to develop by focusing on:
Bringing more volunteers into the charity with specific skills that can help us achieve monumental things!
Generating increased engagement
Being more accessible to children and young people
Encouraging and supporting research
Finding better treatments for all of the porphyrias
Maintaining and fostering networks in the UK, Europe and globally
We really are excited to see what new developments there will be in the porphyria world over the coming years, there are bound to be changes in terms of treatment options and patient care too – it will no doubt be an exciting few years to come!
This is a good opportunity to thank everyone who has made donations of time or money over the many years, as it is this dedication and commitment from our members, doctors, pharmaceutical companies and the BPA committee and advisers that have made the BPA what it is today.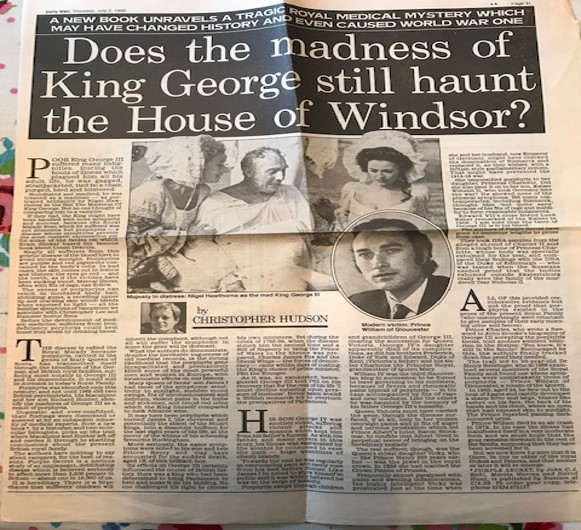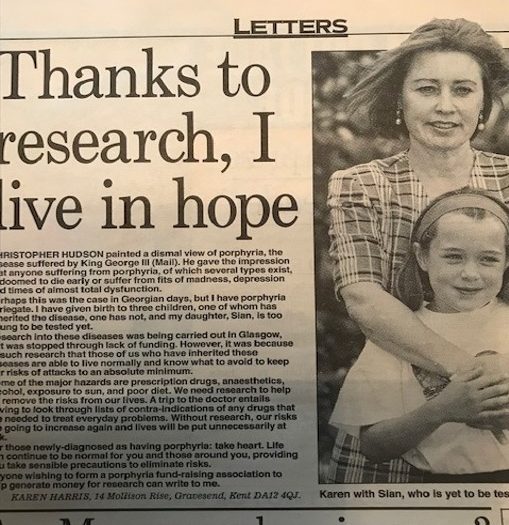 "I am pleased to say that we now have a younger generation coming onto the committee, and my hopes are that the association will continue to grow and support patients, their families, education and research."
Karen Harris